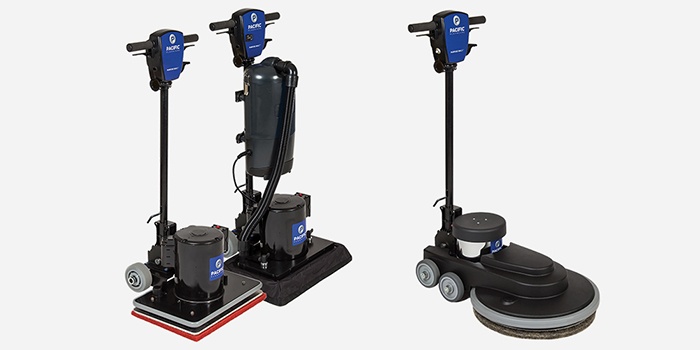 Pacific Floorcare® released its first floor machine in 1946. Nearly 70 years later, they are releasing a new line of floor machines that will certainly turn heads.
We know what you are thinking: a floor machine is a floor machine, who cares about the specs, right? In many cases, you would be right. This is not one of those cases. The new FM-Series combines large motors, heavy down pressures, and tough construction with industry-first attributes to create a machine Purpose Built for the toughest jobs out there.
These machines would have made the founders of Pacific Floorcare very proud. They are built with the quality and durability of a classic floor machine with the advantage of all the great technology we have today.
What makes these machines stand out?
The FM-Series includes industry-exclusive "safe start" indicator, which allows the operator to start the machine up without fear of it "taking off" on them. It features an instant handle adjustment that does not require using awkward levers or hard-to-turn knobs. It also has interlocking safety triggers that only allow the machine to run when the operator is ready.
This new line also features the first-ever orbital floor machine from Pacific, capable of operating at 3,530 rpm while producing less than 64 dBa. That's over 65% quieter than the next best in its category!
As always, Pacific Floorcare is standing behind their Made/Assembled in the USA products. They build them, they test them, they box them and they ship them so you can be confident you are getting top quality shipped directly out of their Muskegon, MI headquarters.
Inspired by tradition. Designed for today. Purpose Built for you.
Click here to learn more about the new FM-Series floor machines and B-Series burnisher.
Get a free orbital scrubber guide right here, too!